The Full Article can be found here:
https://www.carbonbrief.org/analysis-uk-renewables-generate-more-electricity-than-fossil-fuels-for-first-time
In the third quarter of 2019, the UK's windfarms, solar panels, biomass and hydro plants generated more electricity than the combined output from power stations fired by coal, oil and gas, Carbon Brief analysis reveals.
During the three months of July, August and September, renewables generated an estimated total of 29.5 terawatt hours (TWh), compared with just 29.1TWh from fossil fuels, the analysis shows.
This is the first-ever quarter where renewables outpaced fossil fuels since the UK's first public electricity generating station opened in 1882. It is another symbolic milestone in the stunning transformation of the UK's electricity system over the past decade.
Nevertheless, a lack of progress in other parts of the economy means the UK remains far off track against its upcoming legally-binding carbon targets, let alone the recently adopted goal of net-zero greenhouse gas emissions by 2050.
Transformative decade
At the start of this decade in 2010, the 288TWh generated from fossil fuels accounted for around three-quarters of the UK total. It was also more than 10 times as much electricity as the 26TWh that came from renewables.
Since then, electricity generation from renewable sources has more than quadrupled – and demand has fallen – leaving fossil fuels with a shrinking share of the total.
This shift is shown in the chart below, with the declining quarterly output from power stations burning coal, oil and gas in blue and rising generation from renewables in red.
(The quarterly chart also reflects the seasons, with demand higher in winter and lower in summer. Windfarm output is well matched with this cycle, as it tends to be windier in winter.)
Quarterly electricity generation in the UK between 2009 and the third quarter of 2019, in terawatt hours, with fossil-fuel output shown with a blue line (coal, oil and gas) and renewables shown in red (wind, biomass, solar and hydro). Source: BEIS Energy Trends and Carbon Brief analysis of data from BM Reports. Chart by Carbon Brief using Highcharts
The chart above shows that electricity generation from fossil fuels has halved since 2010, from 288TWh down to 142TWh in the most recent 12-month period.
Gas now contributes the vast majority of that shrinking total, as coal plants close down ahead of a planned phaseout in 2025. These ageing power stations were mostly built in the 1960s and 70s and are increasingly uneconomic to run due to CO2 prices, market forces and pollution rules.
In the third quarter of 2019, some 39% of UK electricity generation was from coal, oil and gas, including 38% from gas and less than 1% from coal and oil combined.
Another 40% came from renewables, including 20% from wind, 12% from biomass and 6% from solar. Nuclear contributed most of the remainder, generating 19% of the total.
While it is unlikely that renewables will generate more electricity than fossil fuels during the full year of 2019, it is now a question of when – rather than if – this further milestone will be passed.
This summer, National Grid predicted that zero-carbon sources of electricity – wind, nuclear, solar and hydro, but not biomass – would generate more electricity than fossil fuels during 2019. Carbon Brief's analysis through to the third quarter of the year is in line with this forecast.
New capacity
Over the past year, the most significant reason for rising renewable generation has been an increase in capacity as new offshore windfarms have opened. The 1,200 megawatt (MW) Hornsea One project was completed in October, becoming the world's largest offshore windfarm. The 588MW Beatrice offshore windfarm was completed in Q2 of this year.
These schemes add to the more than 2,100MW of offshore capacity that started operating during 2018. Further capacity is already being built, including the 714MW East Anglia One project that started generating electricity this year and will be completed in 2020.
In total, government contracts for offshore wind will take capacity from nearly 8,500MW today to around 20,000MW by the mid-2020s. The government and industry are jointly aiming for at least 30,000MW of offshore wind capacity by 2030, with two further contract auctions already expected.
In September, the latest auction round produced record-low deals for offshore windfarms that will generate electricity more cheaply than expected market prices – and potentially below the cost of running existing gas plants.
Other contributors to the recent increase in renewable generation include the opening of the 420MW Lynemouth biomass plant in Northumberland last year and the addition of hundreds of megawatts of new onshore wind and solar farms. (Another new 299MW biomass plant being built on Teesside, with a scheduled opening in early 2020, is facing "major delays".)
According to the Department of Business, Energy and Industrial Strategy (BEIS), the rise in renewable output during the first half of 2019 was down to these increases in capacity, with weather conditions not unusual for the time of year.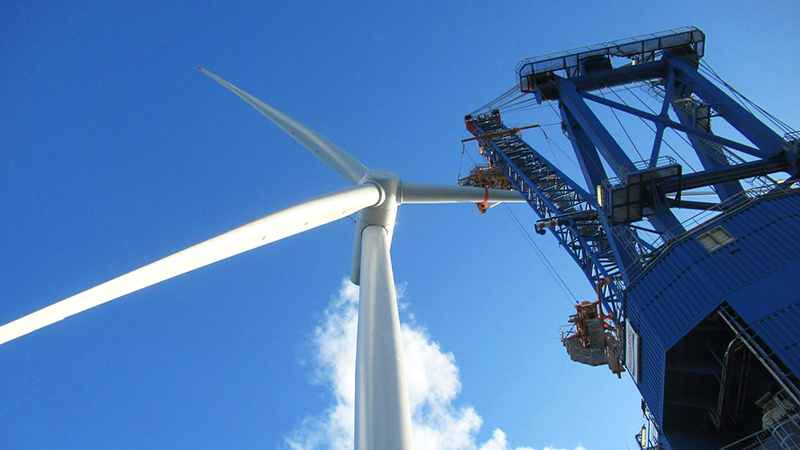 Hornsea One offshore wind farm under construction, 2019. Credit: Ørsted
Some two-thirds of electricity generated from biomass in the UK comes from "plant biomass", primarily wood pellets burnt at Lynemouth and the Drax plant in Yorkshire. The remainder comes from an array of smaller sites based on landfill gas, sewage gas or anaerobic digestion.
The Committee on Climate Change says the UK should "move away" from large-scale biomass power plants, once existing subsidy contracts for Drax and Lynemouth expire in 2027.
Using biomass to generate electricity is not zero-carbon and in some circumstances could lead to higher emissions than from fossil fuels. Moreover, there are more valuable uses for the world's limited supply of biomass feedstock, the CCC says, including carbon sequestration and hard-to-abate sectors with few alternatives.
In terms of fossil-fuel generating capacity, the UK's remaining coal plants are rapidly closing down, well ahead of a 2025 deadline to phase out unabated burning of the fuel. By March 2020, just four coal plants will remain in the UK.
Utility firms have plans to build up to 30,000MW of new gas capacity – including 3,600MW at Drax recently given government planning approval – despite the fact that government projections suggest only around 6,000MW might be needed by 2035.
It is unlikely that all of the planned new gas capacity will get built. The schemes are generally reliant on winning contracts under the UK's capacity market, which is designed to ensure electricity supply is always sufficient to meet demand.
The rise of renewables means that gas generation is likely to continue falling in the UK, whether or not this new capacity gets built. Nevertheless, the UK is unlikely to meet its legally binding goal of cutting overall emissions to net-zero by 2050, unless progress in the electricity sector is matched by reductions in other parts of the UK economy, such as heating and transport.
Consecutive months
Carbon Brief's electricity-sector analysis shows that renewables are also estimated to have generated more electricity than fossil fuels during the individual months of August and September, the first time there have been two consecutive such months.
Previously, renewables beat fossil fuels in September 2018 – the first-ever whole month – and then again in March 2019. This means that there have only ever been four months where renewables outpaced fossil generation, of which three have been this year and two in the last two months.
This is shown in the chart, below, which also highlights the greater month-to-month variability in electricity generation and demand, which is overlaid on top of the broader seasonal cycles.
Monthly electricity generation in the UK between 2012 and the third quarter of 2019, in terawatt hours, with fossil-fuel output shown with a blue line (coal, oil and gas) and renewables shown in red (wind, biomass, solar and hydro). Source: Carbon Brief analysis of data from BEIS Energy Trends and BM Reports. Chart by Carbon Brief using Highcharts
In the first three quarters of 2019, renewables outpaced fossil fuels on 103 of the 273 individual days, Carbon Brief analysis suggests. This is more than one-third of the days in the year so far and includes 40 of the 91 days in the third quarter of 2019.
(Although this is not a majority of days, the aggregate output during the quarter was higher for renewables. This is because their excess over fossil fuels was large on some days.)
As expected from the monthly aggregates in the chart, above, these days with higher renewable generation are concentrated in March and the third quarter of 2019, as shown in the chart, below.
Daily electricity generation in the UK during the first three quarters of 2019, in terawatt hours, with fossil-fuel output shown with a blue line (coal, oil and gas) and renewables shown in red (wind, biomass, solar and hydro). Source: Carbon Brief analysis of data from BEIS Energy Trends and BM Reports. Chart by Carbon Brief using Highcharts.
The total of 103 days with higher renewable electricity generation than from fossil fuels in the first three quarters of the year is far in excess of the 67 such days by the same point in 2018.
This is shown in the chart, below, which also highlights the fact that there had never been any days with higher renewable generation until 2015.
Cumulative count of days each year when electricity generation from renewables was higher than that from fossil fuels. Prior to 2015 there were no days when renewables outpaced fossil fuels. Source: Carbon Brief analysis of data from BEIS Energy Trends and BM Reports. Chart by Carbon Brief using Highcharts.
There have already been nearly as many higher renewable days in the first three quarters of 2019, at 103, as there were in the whole of 2018, which saw 107 such days. There were only 58 such days in 2017, just 16 in 2016 and 12 in 2015. The first ever day when UK renewables generated more electricity than fossil fuels was 11 April 2015.
Methodology
The figures in the article are from Carbon Brief analysis of data from BEIS Energy Trends chapter 5 and chapter 6, as well as from BM Reports. The figures from BM Reports are for electricity supplied to the grid in Great Britain only and are adjusted to include Northern Ireland.
In Carbon Brief's analysis, the BM Reports numbers are also adjusted to account for electricity used by power plants on site and for generation by plants not connected to the high-voltage national grid. This includes many onshore windfarms, as well as industrial gas combined heat and power plants and those burning landfill gas, waste or sewage gas.
By design, the Carbon Brief analysis is intended to align as closely as possible to the official government figures on electricity generated in the UK, reported in BEIS Energy Trends table 5.1. Briefly, the raw data for each fuel is adjusted with a multiplier, derived from the ratio between the reported BEIS numbers and unadjusted figures for previous quarters.
Carbon Brief's method of analysis has been verified against published BEIS figures using "hindcasting". This shows the estimates for total electricity generation from fossil fuels or renewables to have been within ±3% of the BEIS number in each quarter since Q4 2017. (Data before then is not sufficient to carry out the Carbon Brief analysis.)
For example, in the second quarter of 2019, a Carbon Brief hindcast estimates gas generation at 33.1TWh, whereas the published BEIS figure was 34.0TWh. Similarly, it produces an estimate of 27.4TWh for renewables, against a BEIS figure of 27.1TWh.
The Carbon Brief estimated totals for fossil fuels and renewables are very close in Q3 2019, coming within 0.5TWh of each other. This means that despite the relatively low level of uncertainty in the estimates, their relative position could be reversed in the official BEIS data.
This serves to emphasise the fact that the broader trend of decline for fossil fuels and an increase for renewables is of far greater significance than the precise figures for any individual quarter.
In contrast to Carbon Brief's analysis, figures published by consultancy EnAppSys for the third quarter of 2019 suggest that fossil fuels generated slightly more electricity than renewables. There are several reasons for this difference.
First, the company's analysis is for Great Britain only, whereas Carbon Brief's covers the UK overall. Second, it reports on electricity "supplied" in the country, including imports, whereas Carbon Brief estimates the amount of electricity "generated" within the UK only.
Third, Carbon Brief's analysis is, by design, aligned with the quarterly BEIS Energy Trends data for electricity generation, whereas EnAppSys uses its own approach.
For comparison, EnAppSys reported for the second quarter of 2019 that 28.3TWh was supplied in GB from gas, whereas BEIS reports that 34.0TWh was generated in the UK. Similarly EnAppSys reported 23.1TWh coming from renewables, against a BEIS figure of 27.1TWh.
Electricity Monitors
Welcome to Eco-Eye - the home of Eco-eye real-time electricity monitors and wireless energy monitors
See our Online Dashboard in action Here using an Energy Hive measuring our office
See our Online Dashboard in action Here using an Energy Hive Measuring a Solar installation
Our Features
Simple installation
No need for an electrician
Save Energy, Money & Co2!
Eco Eye Monitors can save you 15% off energy bills
Easy to Read Displays
Energy watching couldn't be easier
Designed in the UK
Eco-eye products are British designed
Energy monitors to suit everyone
Home, commercial and micro-generation
Monitors for single phase or 3 phase supplies
monitors for any application!
With electricity prices continuing to rise, now is the time to take positive action and commit to energy saving.
---
Introduction to Eco-eye Electricity Monitors
Turn your sound on first
What They Say
I received the eco-eye last week - thank you. It is working perfectly. I am delighted with the speedy service you provided and the support you (and Rob) have given. Great confidence in your product.
Just to say thanks very much, belatedly, for very efficient and helpful service, plus discount on a replacement Eco eye after dropping the original and breaking its display.
Hello Peter, your support is the best ever received. I make a good advertising for you! Thanks so much for the great support, have a nice weekend!
Not only was it despatched but it was no less equally quickly delivered – the very next morning! That was what I call service and is most refreshing because it as rare as hens' teeth!
Just a note to say 'thank you' for promptly firstly sorting out the discount refund, which has been received OK, and for sending the excellent Smart PV unit, which was received today. Whoever does your packing is extremely neat as the box was wrapped precisely. I wish I could wrap presents as neat. This is nothing to do with the workings, but none-the-less shows attention to detail. I fitted the unit and I am extremely pleased with the simplicity of installing and its use. I shall certainly pass on my comments to the MCS installers and other users.
I purchased the Smart PV after having solar panels fitted. I find it an invaluable tool in seeing how much electricity my solar panels are generating at any time of day, and in using that instant information to manage the use of the electrical appliances in my household to get the most out of the free electricity that the panels are generating. I believe the Smart PV will have almost paid for itself within the first year of use Regards David
I have just phoned eco-eye for some help with eco-eye mini problems. Just to thank you for all your help and to say that I was most impressed with the patient and clear instructions given by the person I spoke to. Excellent service.
Got to say, as an engineer, I've been impressed with your kit. The intelligent immersion has been particularly good - and flawless for nearly 2 years now. The foil sensor on the Eco-Eye was the one part I though was a little less robust when I first installed it. I'm not surprised it failed first. Still - overall very impressed. Eco-eye comment: The foil sensor has been redesigned and is now much more robust
Its working great thanks to your assistance. We've just had solar panels installed and we were expecting some kind of display but due to an over zealous salesman we ended up with the Owl Intuition Monitor and its rubbish. The PV and House readings on the Owl are out by anything between 100-350w sometimes 500w. I looked on Which? Website and the SmartPV got 4/5 for accuracy whereas the Owl got 2/5. Well the SmartPV is just about spot on with the PV reading against the Inverter display and only about 20-50w difference between the House usage compared to our British Gas monitor so I am well chuffed.
Answers to queries and positive help have been freely given on the few occasions when needed – a really good service!
I`ve been quite impressed with the kit that you sent me and with the dealings with your organization. You answered all my pre-purchase queries quickly and comprehensively. The equipment is high quality, relatively simple to install and the improvement in information and presentation over my previous, "WattsOn" equipment is quite spectacular.  My PV panels have now been installed for 8 years and for the first year or two the WattsOn indicator worked adequately despite being a little idiosyncratic. After that, however, the equipment failed progressively until about 3 years ago when it become virtually useless.  I am now back in control of how my panels are working. I  think my only, minor, criticism of the Eco-eye equipment would be to do with the LCD`s legibility.  When the meter is standing on a kitchen worktop, the angle of the screen is such that identifying which bars of the display is active can be difficult so the display appears to be showing a row of 8s. Raising the meter closer to my eye-level solves that, however. I have quite appreciated the ability to download generation data to my PC and will continue to do so to monitor my panels` performance. For the first time I actually have evidence that my panels do, occasionally, work at their rated output of 3.7kW. Thanks for producing such a good piece of kit. Regards Howard